Saleroom re-opening Monday 1st June
22/05/2020 Latest News
 IT'S VERY MUCH BUSINESS AS USUAL – THOUGH IN A SLIGHTLY DIFFERENT WAY!
 We are very pleased to announce that from Monday, 1st June the saleroom will be "open", albeit in a different guise to the way we were. The major difference is that any visits to the saleroom must be by prior appointment.
 AUCTIONS
We intend to return to our auction schedule of two auctions each month.  However this will be slightly different in that they will be a Victoriana and General Sale, and an Antique and Fine Art Sale, every month; both of which will be bidding online only or by telephone subject to availability. We are pleased to announce that online bidding can be through www.Serrell.Bidlive which will be available from our July 9th Antique sale, or through www.the-Saleroom.com as before. Viewing for both sales will be for the two days previously at 30 minute intervals and by appointment between 11.00am and 4.00pm; there will be a queuing system without appointment from 9.00am – 11.00am and from 4.00pm – 6.00pm for each of the two days with up to five people allowed in the saleroom at any one time. Photographs and condition reports will be available online for the Antique and Fine Art Sales. Strict hand washing facilities will be enforced prior to entry into the saleroom. A route will be shown around the saleroom which must be adhered to. We would recommend that clients bring and wear the appropriate gloves and PPE to view. Payment for all sales will be by bank transfer or debit card only (subject to our terms and conditions), and goods will be collected again by appointment on the Friday and Monday following a sale. Regrettably any goods not collected by 5.00pm the Monday following a sale will be moved and stored at the purchaser's expense unless prior arrangements have been made with the auctioneers.
Our provisional sale dates for the rest of the year are as follows: (updated 27.5.20)
NB - the 11th June general sale previously advertised, has now been incorporated into the 25th June sale to enable saleroom viewing in accordance with most recent Government guidelines.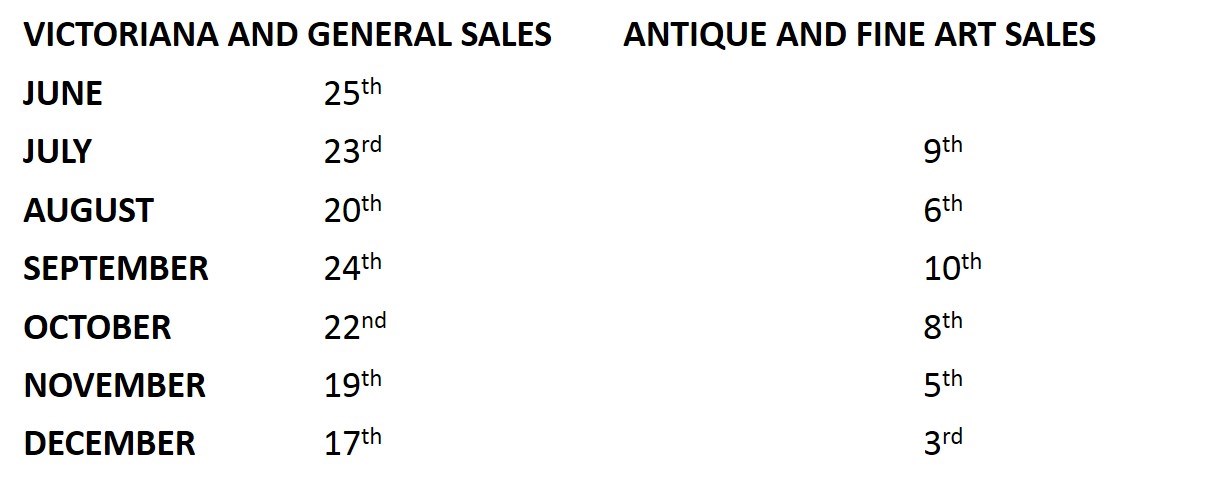 We have recently cleared the surplus furniture, paintings and porcelain from a property in Eaton Place, London, which will be offered in the above sales.
We have also been asked to sell a small but important collection of Patek Philippe watches, various gold coins, important Royal Worcester to include a fine pair of vases by Stinton and two George Owen pieces, a Robert "Mouseman" Thompson dresser, a Vulliamy timepiece and numerous other interesting lots.
 The contents sale of Brays department store, which was postponed in March, has been rescheduled and the lots will be included in our forthcoming sales which will be posted on our website.
THE WEBSITE WILL BE REGULARLY UPDATED WITH ANY ALTERATIONS TO SALE DATES AND RELEVANT INFORMATION REGARDING VIEWING AND COLLECTIONS
 VALUATIONS
We are open for valuations by prior appointment. A specialist valuation area will be at the side of the saleroom. Hand washing facilities will be available here (though we would ask you bring your own towel). A table will be available to place items to be valued on – these will then be inspected by us maintaining a social distance at all times.
VALUATIONS FOR INHERITANCE TAX PURPOSES AND COMPLETE HOUSE CONTENTS CLEARANCES
We will be pleased to prepare and arrange these if necessary - again observing the correct social distancing measures.
 We are anticipating a strong demand for gold, jewellery, silver, collectors' objects, porcelain – particularly Royal Worcester, and fine furniture.
 IF YOU HAVE ANY ITEMS THAT MAY BE SUITABLE FOR INCLUSION IN ONE OF OUR SALES, PLEASE CONTACT US BY EMAIL – auctions@serrell.co.uk OR BY TELEPHONING 01684 892314
FLORENCE NIGHTINGALE CLOCK TIMED CHARITY AUCTION
 We are very pleased to report that the timed auction of the Florence Nightingale Clock generated a lot of interest from bidders near at home and overseas. Our anonymous vendor is generously donating all the proceeds to St Richards Hospice in Worcester.